---
VACCINE APPOINTMENTS NOW OPEN
Vaccine information is changing quickly – check back regularly for updates.
---
All Georgians age 12 and older are now eligible for COVID-19 vaccine.
Note for individuals ages 12-17: Anyone under age 18 must be accompanied by a parent or guardian to receive the vaccination. The Pfizer vaccine is the only vaccine currently authorized for ages 12-17. Moderna and Johnson & Johnson vaccines are authorized for ages 18 and up.
The easiest way to schedule an appointment is online (click here). For those people needing assistance in scheduling appointments, please call 912-754-0283 (Mon-Fri 10 am – 6 pm, and Sat-Sun 10 am — 4 pm) to schedule an appointment.
Since vaccines are allocated for the state's population, please bring some form of I.D. to prove Georgia residency or an employee I.D. to prove you work in the State of Georgia.
---
EHS OPTIONS FOR COVID-19 VACCINATIONS:
EFFINGHAM HOSPITAL RETAIL PHARMACY:
Click to Schedule an Appointment
Or call 912-754-0283 (Mon-Fri 10 am – 6 pm, and Sat-Sun 10 am — 4 pm) if you need assistance in scheduling.
EFFINGHAM FAMILY MEDICINE: Please call your provider's office directly to schedule an appointment.
Please check for Vaccine Appointment Updates on our website, EffinghamHealth.org/coronavirus, or follow our Facebook page @EffinghamHealth.  
---
Click here for 8 things to know and answers to frequently asked questions.
---
DPH COASTAL HEALTH DISTRICT IS ALSO ADMINISTERING THE VACCINE IN EFFINGHAM
Click here for more information on where and how DPH is distributing vaccines in our area.
---
FOR THOSE WHO HAVE APPOINTMENTS WITH THE RETAIL PHARMACY
Vaccines will be administered in the hospital's Retail Pharmacy, located in the Hospital Atrium.
Enter the hospital through the Main/ER entrance.
All vaccine recipients will be screened and must wear a mask in the hospital.
Please check back regularly for updated information regarding the roll-out through Effingham Health System. This information is subject to change based upon vaccine availability and updates from DPH. We thank you for your patience and look forward to vaccinating you as soon as possible per the guidelines established by Public Health.
For easy access to updates on the COVID-19 Vaccination roll-out, please like and follow our Effingham Health System Facebook Page. 
---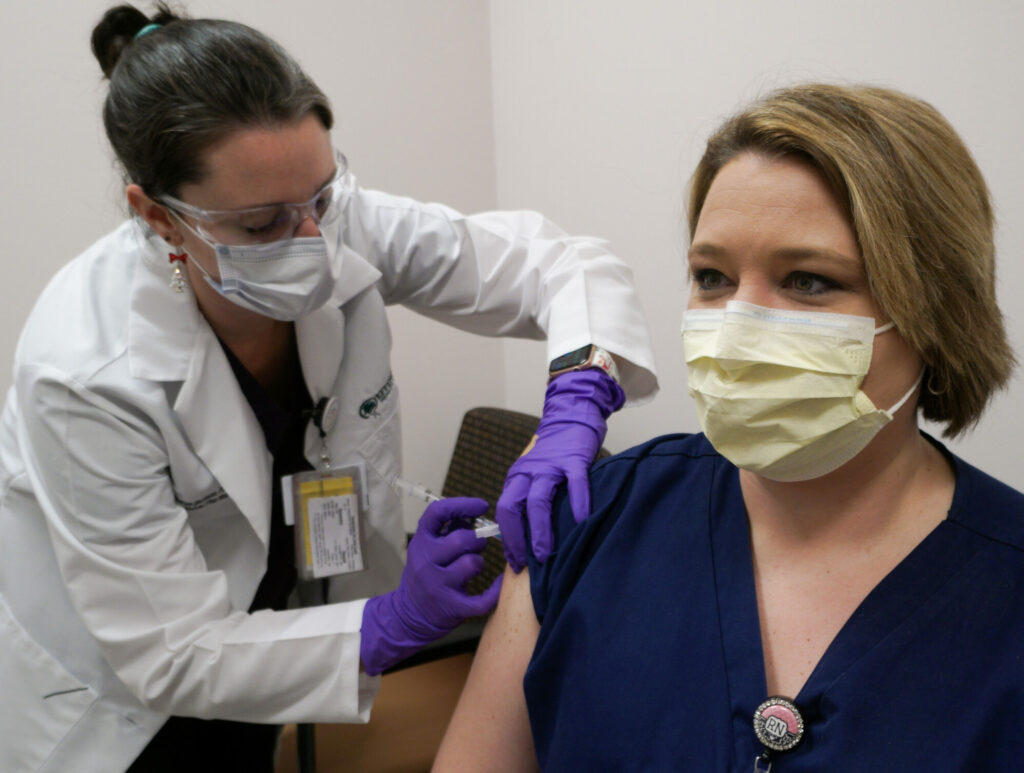 AHA, AMA, and ANA Urge Healthcare Professionals to Take COVID-19 Vaccine
---
Limited Visitation Now Allowed
CLICK HERE FOR DETAILED HOURS AND GUIDELINE FOR SPECIFIC DEPARTMENTS
Limited Entrances to Hospital
Rehabilitative Services Entrance: Open Mon-Fri, 6:00 am-6:00 pm only.
Emergency Room Entrance: Open 24/7
Cancer Care Center: Open to Cancer Care Center Patients ONLY
---
Updated Graph of New Cases in Coastal Health District and in Effingham County: https://covid19.gachd.org/daily-average-of-new-cases/
In accordance with CDC COVID-19 guidelines, everyone entering an Effingham Health System facility will be required to wear a face mask. We encourage you to bring your own face mask. If you don't have one, a face mask will be provided.
---
Coronavirus Prevention at Effingham Health System
In response to the National Emergency, we are instituting Coronavirus Prevention and Awareness Measures. We are assuming a robust, aggressive, proactive position to promote a healthy community. 
Please read these guidelines to help us keep you, your family, your friends—and our community healthcare workers—healthy throughout the coronavirus threat. Given not everyone infected by COVID-19 exhibits symptoms, our policies are designed to minimize traffic and reduce risk of infection for all our patients and residents. In response to a frequently asked question, we are using a top-of-the-line disinfectant within our facilities, along with best practices to maintain a healthy hospital environment.
---
Patient Screenings in Effect Until Further Notice:
All patients entering Effingham Hospital will be screened and have their temperature checked, prior to entering the building and will be asked to wear a mask inside the hospital.
Please Note: To maintain a safe environment for all our patients, non-emergency ER patients presenting with CDC COVID-19 symptoms may be asked to wait in their car until an appropriate exam room is available. 
---
Your Role in Staying Safe
The good habits we have learned, like careful hand-washing, cloth face covers, and social distancing, will continue to be important. Learn more about what you can do to protect yourself and your family, and stop the spread of COVID-19. Click here to visit the CDC website for more information.

---
Morrison's Café Closed Temporarily
Morrison's Café remains temporarily closed to the public to minimize traffic and exposure. Our date of reopening is to be determined. Thank you for your understanding!