Effingham Health System honored all of our Nurses, the entire Hospital Team, and Effingham Care & Rehabilitation Center's Skilled Nursing staff with special national celebrations throughout May.
Effingham Health System also recently honored a select group of employees that have excelled in their positions during this exceptionally challenging year. They have demonstrated professionalism, dedication, compassion, and passion for their work in four key areas of the healthcare system.
2022 Employee of the Year Recipients
Ashley Mitchell; Hospital Employee of the year
Amber Durden; Effingham Family Medicine Practice Employee of the Year
Grace Fuller; Care Center Employee of the Year
Kristie Whitley (Endura care); On-Site Contractor of the Year
EHS also recognized four outstanding leaders. As the plaques they were given state, "A leader is someone who demonstrates what's possible."
2022 Leadership Award Recipients
Patrice Goldwire
Nancy Flemming
Carol Mitchell
Hillary Evans
Years of Service Award Presentations
Listed below are the 43 employees who were honored for their time and commitment (5, 10, 15, 20 & 25 years) to Effingham Health System.
---
Dr. Fran Witt (President and CEO) and Patricia Ann Yarbrough (Chairman of the Board) present the honorees (left to right, as listed above).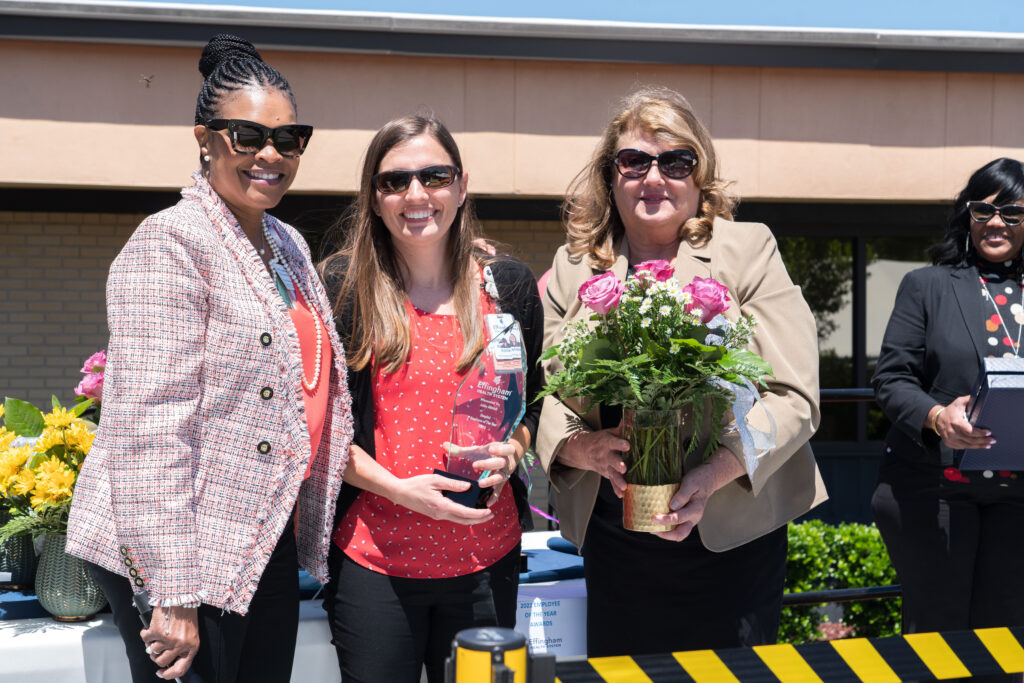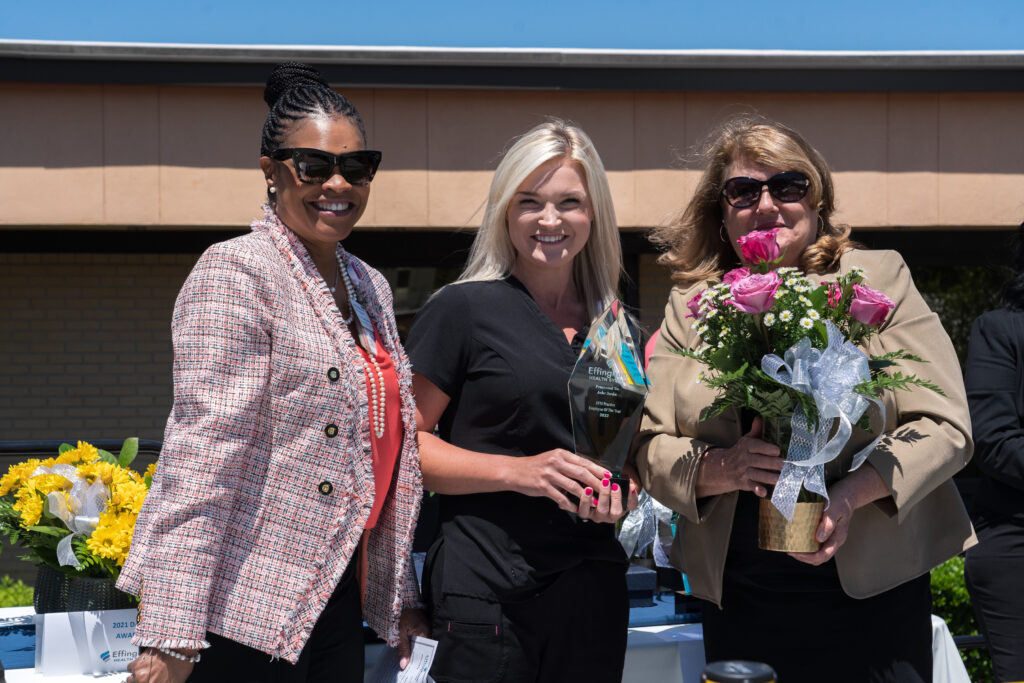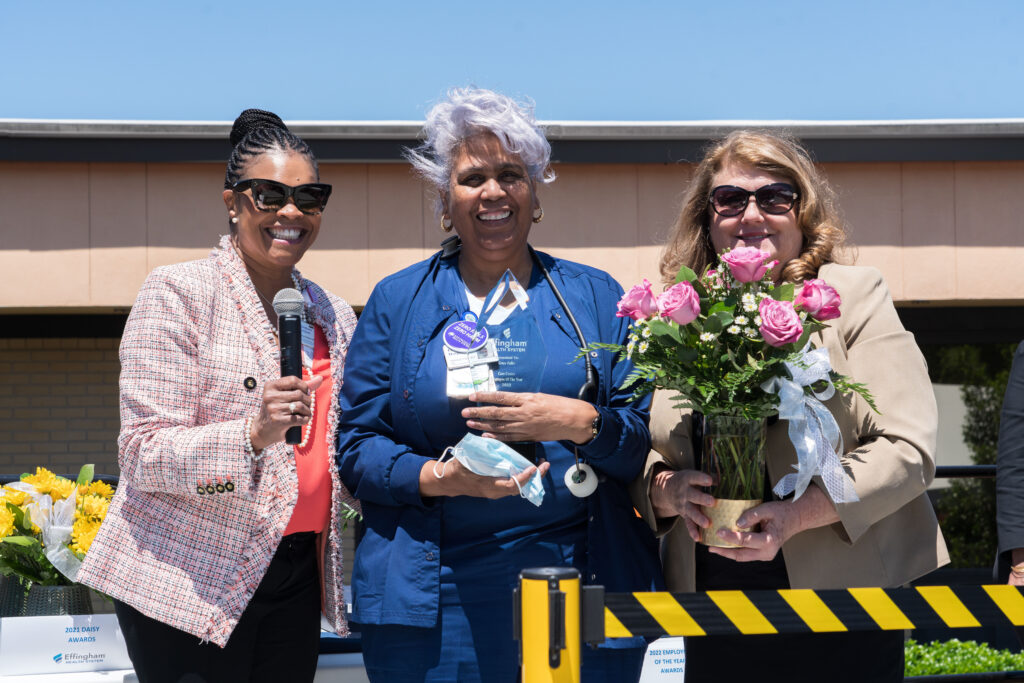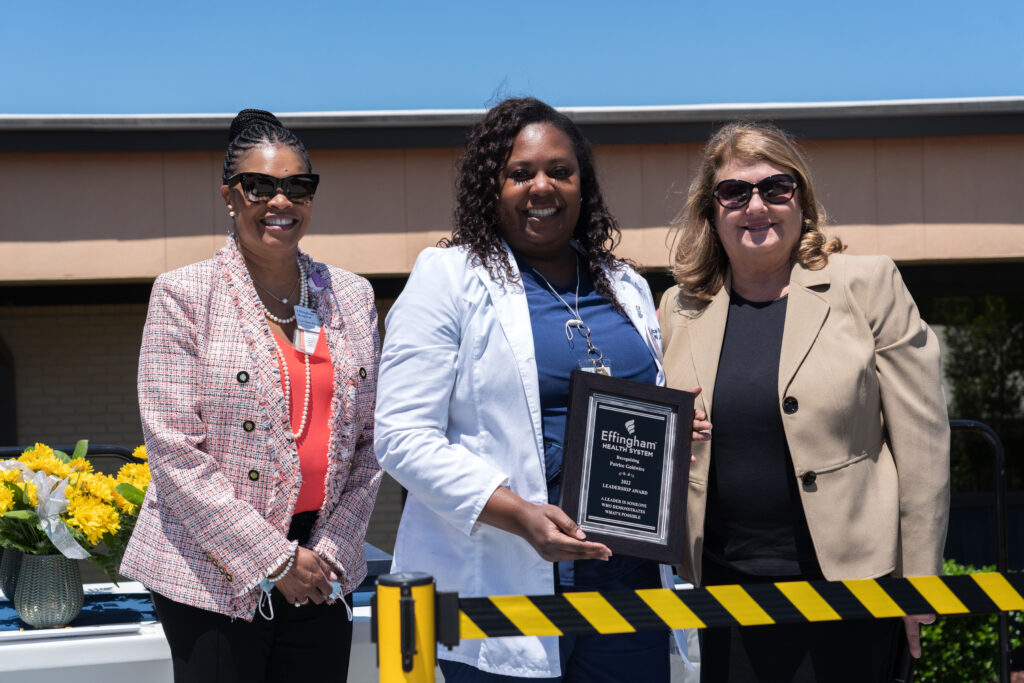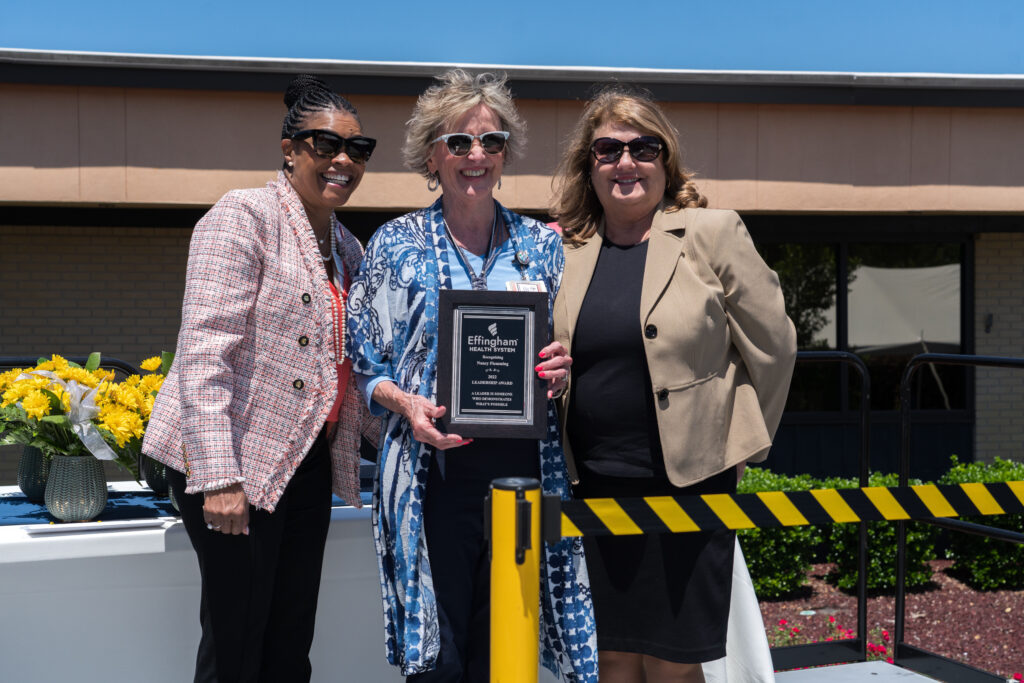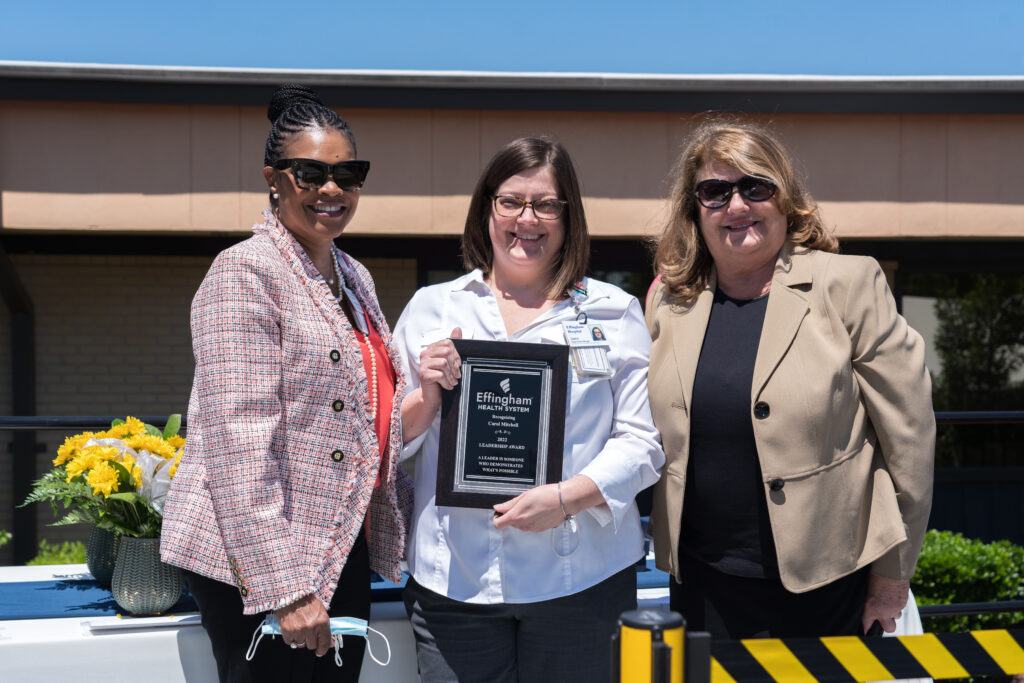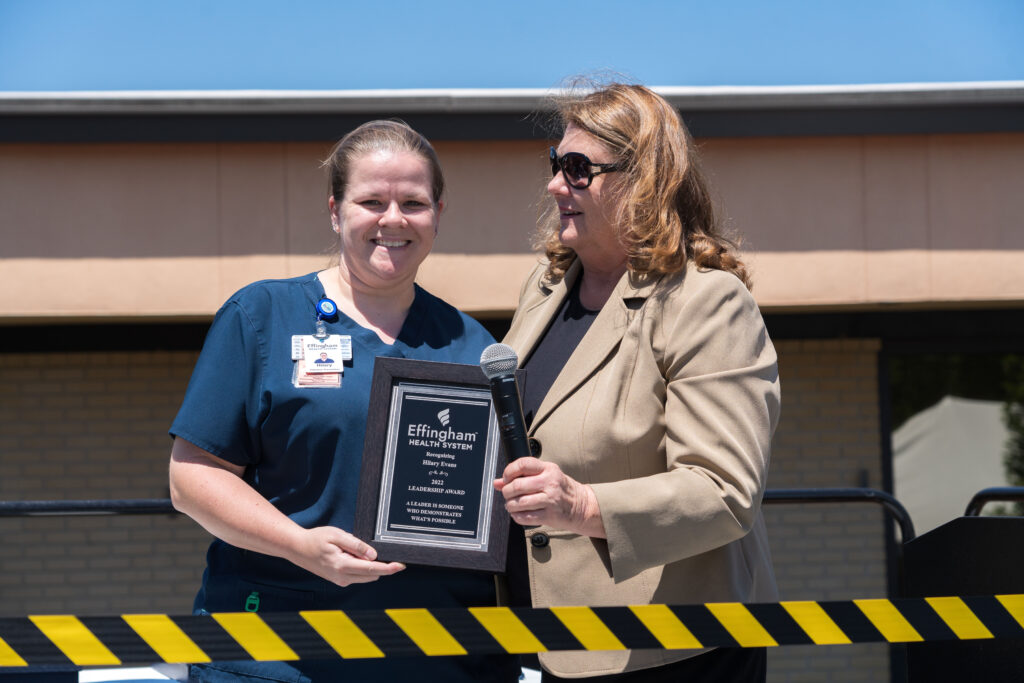 ---
25 YEARS
| | | |
| --- | --- | --- |
| Name | Job Title | Department |
| Katrina Martin | Director of Business Office | Insurance & Billing |
| Lee Hughes | Charge Validation Analysis | Charge Validation |
20 YEARS
| | | |
| --- | --- | --- |
| Name | Job Title | Department |
| Stephanie Riggin | HIM Coordinator | HIM |
| Amy Edwards | Respiratory Therapist | Cardiopulmonary |
15 YEARS
| | | |
| --- | --- | --- |
| Name | Job Title | Department |
| Anna Banister | Nurse practitioner | EFM Rincon |
| Catherine Blake | PCT | Cancer Care Center |
| Sharon Carpenter | HIM Clerk | HIM |
| Erin Elton | Data Resources Coordinator | Performance Improvement |
| Josh Forbes | Dir. Of Engineering and Facilities | Facilities |
| Stacey Forbes | Patient Financial Advisor | Southern Surgical Providers |
| Carol Oglesby | Phlebotomist | Lab |
| Adaliz Rivera-Ramos | RN | ER |
| Rita Walker | PCT | OR |
 10 YEARS
| | | |
| --- | --- | --- |
| Name | Job Title | Department |
| Karen Anderson | Manager, Materials Mgmt. | Materials Management |
| Latasha Carter | C.N.A | Care Center |
| Nancy Flemming | Exec. Dir. Ambulatory Anc. Serv. | Clinical Administration |
| Dr. Romualdo Laygo | Physician | EFM Guyton |
| Julie Mingledorff | Unit Clerk | MedSurg |
| Kristie Moore | Nurse Practitioner | EFM Guyton |
| Mandy Reed | RN | OR |
| Amy White | RN | ER |
| Jermeecka Williams | Lead Laundry Tech | Laundry |
 5 YEARS
| | | |
| --- | --- | --- |
| Name | Job Title | Department |
| Shannon Anderson | CT Tech | CT Scan |
| Cathy Breckenridge | C.N.A | Care Center |
| Delores Creasy | HIM Coder | HIM |
| Samantha Eason | Unit Clerk | ED |
| Sharon Etuk | AP Manager | Finance |
| Linda Golson | Patient Financial Advisor | Cancer Care Center |
| Kristal Jaster | Physician Assistant | EFM Port Wentworth |
| Patrick Kemp | EVS Floor Tech | EVS |
| Esther Kipkemboi | C.N.A | Care Center |
| Zana Kirkland | Certified Surgical Tech | OR |
| Lisa Macdonald | HIM Analyst | HIM |
| Emily Marsh | Radiology Tech | Radiology |
| Mandy Mastin | Unit Clerk | ED |
| Ashley Mitchell | IT CS Supervisor | IT |
| Alfred Reci | Medical Technologist | Lab |
| Chasteen Slater | SS Scheduler Specialist | OR |
| Ashley Smith | Radiology Clerk | Radiology |
| Michael Smith | Supervisor | Materials Management |
| Justin Waldron | Maintenance Mech III | Facilities |
| Amy Watson | Clinical Lead | Clinical Administration |
| Sheila Lewis | HIM Analyst | HIM |