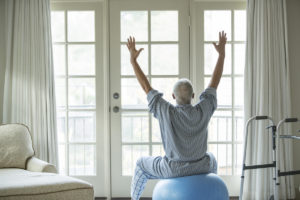 Licensed physical and occupational therapists, along with speech language pathologists, provide motivation, education, and therapy to patients who may have lost certain physical oroccupational skills due to injury, illness or accident.
Our team of professionals, partner with you and your physician to help you attain your best potential outcome. In a warm, friendly, and encouraging environment, we are committed to listening carefully and developing the best treatment solution for your unique situation. We pledge to do our absolute best to help you return to an active, healthy life.
Evaluation and treatment services are available on both an inpatient and outpatient basis for a variety of injuries and illnesses, including work-related injuries, sports injuries, and post-surgical care.
Accessibility
The Rehabilitation Therapy Center is located on the ground floor of Effingham Hospital in Springfield. It has a dedicated entrance off First Street, with convenient parking and drop-off for patients.
Hours
Monday-Friday, 8:00AM-5:00PM
Rehab Services Include:
Occupational Therapy

In its simplest terms, occupational therapists help people of all ages participate in the things they want and need to do through the therapeutic use of everyday activities (occupations). Common occupational therapy interventions include helping people recovering from injury to regain skills and providing support for older adults experiencing physical and cognitive changes.

Speech Therapy

A key element of our physical rehabilitation programs, we help patients with injuries or disorders that impact their ability to communicate to develop better communication, cognitive skills, hearing, and swallowing abilities.

Physical Therapy

We assist patients after illness, injury, or surgery to strengthen the affected area and hasten recovery. Therapeutic interventions help increase mobility, improve balance, and decrease pain.