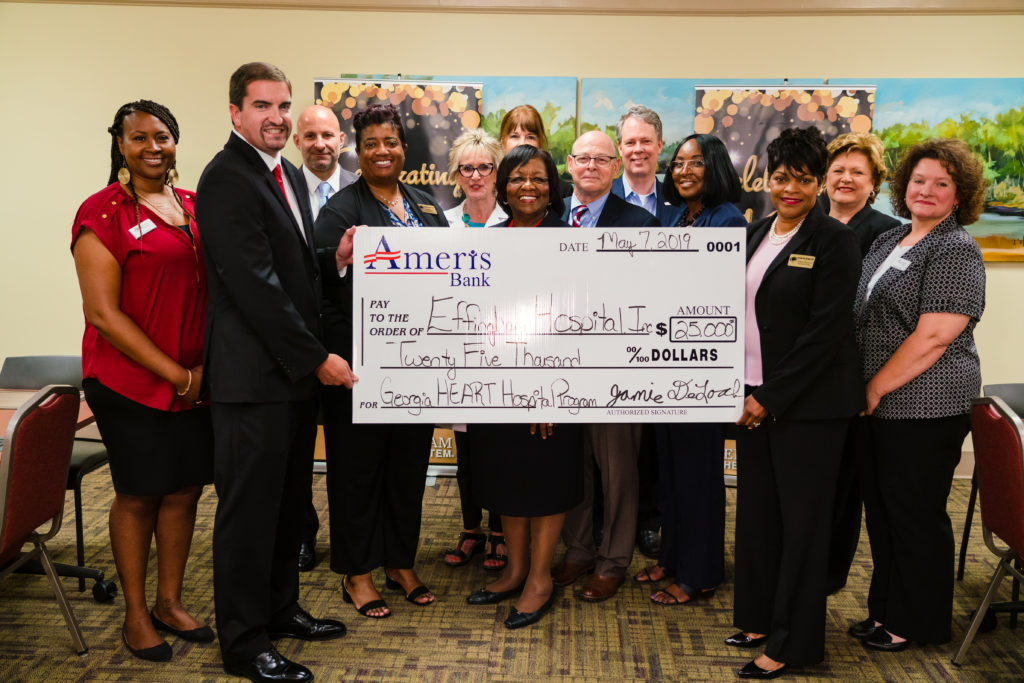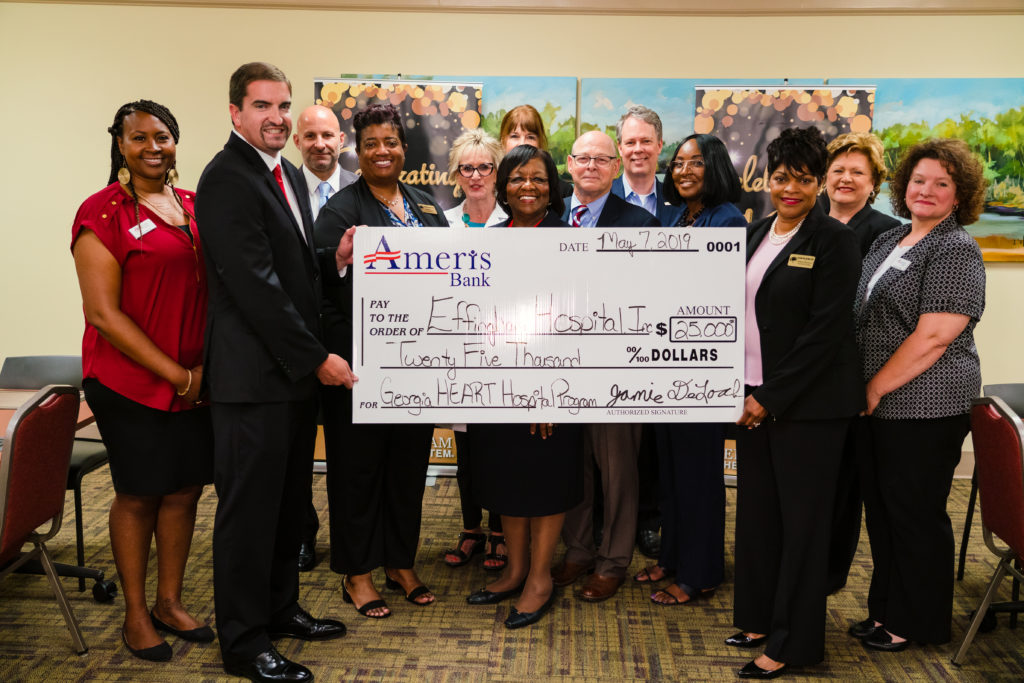 (Springfield, Georgia)
Ameris Bank has donated $25,000 in financial support for Effingham Health System through the Georgia HEART Hospital Program. Representatives from Rincon's Ameris Bank office presented a check to Fran Baker-Witt, CEO of Effingham Health System.
"This significant donation demonstrates Ameris Bank's awareness of our community's healthcare needs and the Bank's commitment to support the people they serve," comments Mrs. Baker-Witt.
"We appreciate and applaud Ameris Bank's leadership. Their contribution will help fund hospital facility enhancements and new medical technologies. Both of which will help us in our journey to transform healthcare for this community."
On behalf of local Ameris Bank's local leadership, Jamie Deloach, Commercial Lender and Vice President for Ameris Bank's Rincon branch explains, "With our headquarters based in Moultrie, Georgia, we understand how important hospitals are to communities like Effingham County. This is an excellent way for us to support Effingham Health System and help them to grow availability of quality healthcare for our community."
Jeannie Lane, Rincon Branch Manager; Greg Marini, Savannah Market President; and Tori Rhett-Johnson, long time Personal Banker with the local branch, were among those joining Mr. Deloach for the check presentation.
As part of the Georgia HEART Hospital Program, Ameris Bank gave $1.65 million in financial support to 16 rural hospitals located within the bank's footprint in Georgia.
"As a community bank grounded in service and character, we consider it a great honor to be able to make these contributions to support families across rural Georgia," said Ameris Bank CEO Dennis J. Zember Jr., in a written statement. "We are neighbors in these communities, and we are committed to doing our part to help bring them financial peace of mind and advance access to quality healthcare."
Mrs. Baker-Witt expands on the impact of this donation saying, "Ameris Bank's generosity is setting the bar for how local businesses and individual taxpayers can support the advancement of healthcare for residents of Effingham and surrounding communities—through Georgia HEART and the Georgia Rural Hospital Tax Credit Program it represents—or through our new Effingham Health System Foundation.
The Georgia Rural Hospital Tax Credit (State Bill 258) enables Georgia businesses and taxpayers to redirect their Georgia income tax liability to help support these qualified hospitals. Participation in the Georgia HEART program is limited to Georgia rural hospitals that meet qualification criteria established by law.
For more information on the Georgia Rural Hospital Tax Credit Program visit GeorgiaHEART.org