In presenting a $75,000 check for 2022 to Effingham Health System, Ameris Bank of Rincon brings to $250,000 the bank's total donation since 2018 to the local hospital through the Georgia HEART program. The Georgia HEART program administers Georgia's Rural Hospital 100% Income Tax Credit. The program allows Georgia taxpayers (individuals and businesses) to elect to keep their money in the community to support the growth of local healthcare.
Presenting the check for Ameris Bank are Greg Marini, Savannah Market President; Jeannie Lane, Rincon Branch Manager; and Jamie DeLoach, Vice President and Business Banker. "Ameris Bank is proud to contribute to our local hospitals across the state, and we understand the impact they have on our communities," commented Mr. DeLoach. Mr. DeLoach also serves as County Commissioner for District 3 and is a member of the Effingham Health System Foundation Board of Directors.
"It's truly impressive that Ameris Bank continues to support the future of healthcare in our community. We appreciate Ameris Bank's ongoing generosity," says Dr. Fran Witt, President and CEO of Effingham Health System. Joining her in accepting the check for EHS are LaMeisha Hunter Kelly, Executive Champion for the Georgia HEART Program, and leadership team members. Dr. Witt continued, "I want you to know that our leadership is committed to expanding the continuum of care and providing access to quality healthcare close to home."
Since 2018, Ameris Bank has donated over $7.8 million to 18 rural hospitals in Georgia Rural through Georgia HEART.
Georgia HEART helps rural and critical access hospitals administer the Georgia Rural Hospital Income Tax Credit. In addition to the 100% State Income Tax Credit, many donors are also eligible for a federal deduction.
If you would like more information about how you can donate to Effingham Hospital in exchange for a 100% tax credit, contact LaMeisha Kelly (912-754-0174) or visit GeorgiaHEART.org.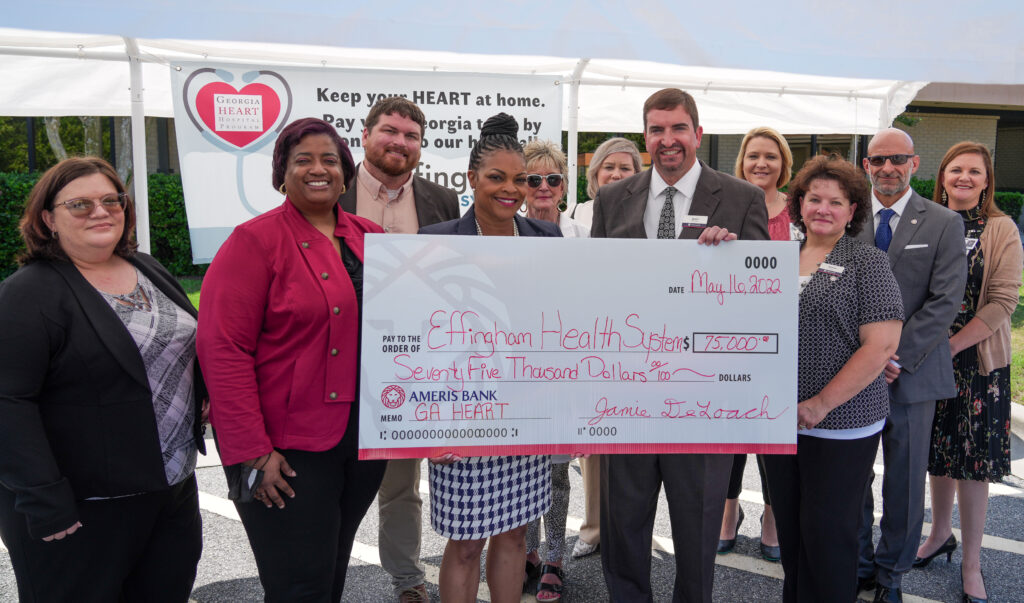 Ameris Bank presenting 2022 donation to Effingham Health System. Pictured left to right: Amy Watson, LaMeisha Hunter Kelly, Matthew Moore, Dr. Fran Witt, Nancy Fleming, Susan Salinas, Jamie DeLoach, Jennifer Floyd, Jeannie Lane, Greg Marini, and Elizabeth Waters.