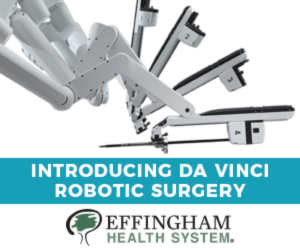 In a move that is redefining surgery options for local residents, the first surgeries using advanced robotic surgery at Effingham Health System were performed this past week.
The introduction of da Vinci X® robotic surgical system at Effingham Health System is a game changer for healthcare in our community. The cutting-edge surgical robot will help keep Effingham Health System on the forefront of healthcare technology and most importantly, help transform the surgery experience for patients in Effingham.
Surgery performed with the da Vinci X delivers faster recovery times for most surgery patients. For patients with busy schedules and responsibilities, this means a quicker return to normal life.
"This cutting-edge surgical technology will help us draw more of the region's top surgeons to Effingham Health System," shares Fran Baker-Witt, CEO. "That means more specialized services close to home for local residents."
Effingham Health System is the only critical access hospital in Georgia to offer da Vinci robotic surgery.
"The da Vinci X Surgical System is a game-changer for local patients. " said Dr. Alexander Wynn, Chief of Surgery at Effingham Health System. "It will allow surgeons enhanced maneuverability during surgeries with and ultimately result in shorter recovery time for most patients."
The da Vinci X robot is designed to help the surgeons transcend the limitations of conventional surgery, providing a minimally invasive option for a wide range of procedures.
With robotic surgery, surgeons use very small instruments that can rotate at a degree far greater than the human wrist and simulate the surgeon's hand movements—allowing them to access harder-to-reach areas.
The surgical robot can be used in a wide range of specialty services, including general surgery and hernia repair. The addition of the da Vinci X Surgical System, will soon allow physicians performing surgery at Effingham Health System to offer patients the option of robotic surgery for additional procedures, which may include urology, gynecology, gynecologic oncology, and colorectal surgery.
For more information, patients requiring surgery should ask their physician if robotic surgery at Effingham Health System is an option.