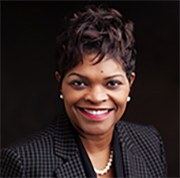 The Effingham County Chamber of Commerce has announced that Ryan Thompson will serve as Chairman of its board of directors for 2020-2021. Thompson, a Principal and Landscape Architecture Department Manager at Thomas & Hutton, has served on the chamber's board since 2017, and as Vice-Chairman since July 2019.
After earning his Bachelor of Landscape Architecture from the University of Georgia, Ryan joined Thomas & Hutton in 2002. A licensed Professional Landscape Architect and certified LEED Accredited Professional, he and his team of more than 10 landscape architects collaborate with the over 350 other Thomas & Hutton employees to ensure that clients are provided with unique, sustainable, and innovative landscape, hardscape, and planning solutions. He has resided in Effingham County with his wife (Leslie Arden Thompson) and daughters since 2005.
Dr. Fran Baker-Witt, Chief Executive Officer of Effingham Health System, was elected Vice-Chairman for 2020-2021. She has served on the chamber's board since 2018. Under her leadership, Effingham Health System has launched a cancer care center, da Vinci robotic surgery, and a pediatrics practice. She has developed partnerships to provide local access to the region's leading cardiology and orthopedic specialty physicians. A registered nurse by background, Dr. Witt has a Doctor of Nursing Practice and a Master's in Business Administration. She is also a Licensed Nursing Home Administrator.