Four leading healthcare organizations recognized for innovation during the COVID-19 pandemic
SEATTLE (PRWEB) FEBRUARY 09, 2021
MCG Health, part of the Hearst Health network and an industry leader in evidence-based guidance and healthcare technology, announces the recipients of its 2020 Richard L. Doyle Award for Innovation and Leadership in Healthcare. This year, due to the heroic efforts of so many healthcare organizations, MCG expanded the award to recognize two payer and two provider organizations that demonstrated innovative use of evidence-based guidance and technology. Also specific to this year, the award recognizes organizations that leveraged MCG solutions in response to the COVID-19 global pandemic. The winners for 2020 are Anthem Blue Cross Blue Shield, Cleveland Clinic, CDPHP, and Effingham Health System.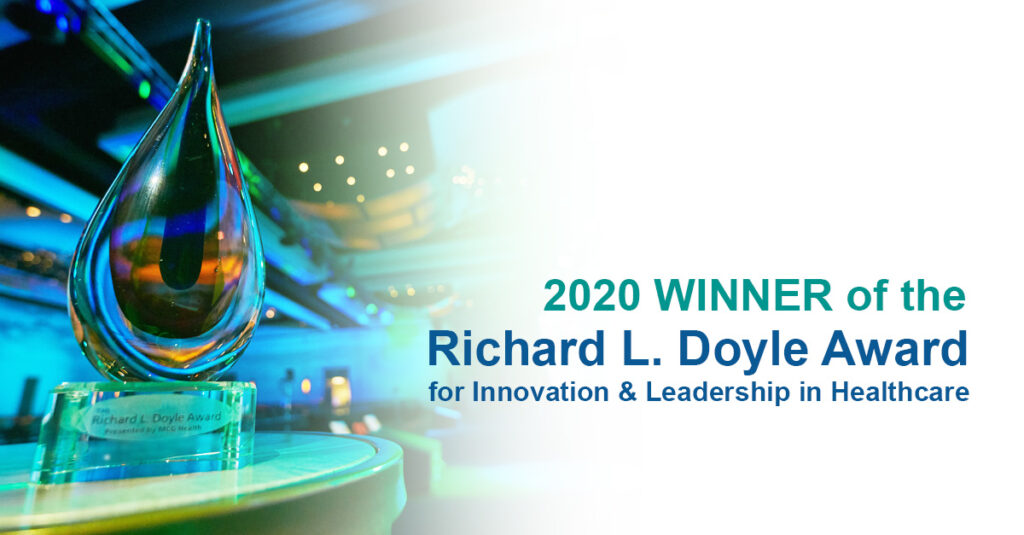 ---
Effingham Health System, a Critical Access Hospital in rural Georgia with a reputation for innovative thinking, leveraged MCG Acute Viral Illness criteria to develop an algorithm for their providers to use when admitting COVID-19 patients. Effingham hospitalists, nurses, and case managers were able to incorporate various MCG care guidelines into their workflow to determine each patient's individual clinical needs to achieve a safe and appropriate discharge. By incorporating this evidence-based guidance into their daily interdisciplinary meetings, and by accessing Multiple Condition Management guidelines for patients with comorbidities, Effingham's team was able to successfully reduce the volume of costly denials that might have otherwise been detrimental to the hospital as well as patients in their community. Dr. Fran Witt, Effingham Health System's President and CEO stated, "Our commitment to patient safety, innovation, and implementing best practices has realized tangible financial benefits from the utilization of MCG care guidelines. We are excited to be partnering with MCG and look forward to continued success."
---
Anthem's Commercial Clinical Operations team supports its goal of consistent care through evidence-based standards for 16 million members covered by Anthem Blue Cross Blue Shield health plans. Amid the public health crisis, their leadership effectively pursued an online learning strategy to obtain MCG Utilization Management certification for 167 clinicians. These individuals then helped promote standardization across the organization by conducting educational sessions for other Anthem colleagues. The cascading effect of knowledge-sharing has since increased its staff's Degree of Healthcare Management (DoHM). This noteworthy achievement enhanced the use of evidence-based practices and helped Anthem support its provider network to effectively manage COVID-19 patients. Addressing the award recognition, Chief Clinical Officer, Dr. Anthony Nguyen, said, "At Anthem, we are always looking for more ways to support our members and care provider partners. I'm pleased we were able to make the most of a very challenging time and empower our team members to obtain these certifications that have already started to provide value now and for years to come. Teams across Anthem are working to improve lives and deliver a simpler, more affordable, and more effective healthcare experience. This team's actions help support that goal."
Cleveland Clinic, one of the largest and most well-respected hospital systems in the world, had to act quickly to protect their patients as well as their staff as the pandemic quickly filled their ER and inpatient hospital beds. Cleveland Clinic leadership was able to leverage MCG Acute Viral Illness guidelines, as well as additional MCG content to maintain effective care progression in their hospitals. Also, as Cleveland Clinic's Care Management, Utilization Management, and Enterprise Physician Advisor teams moved to remote working arrangements, the hospital system was able to pivot quickly using existing EHR technology with MCG content embedded in the clinical workflow. This not only allowed them to keep their employees safe and working, but it helped achieve a cost savings of 71% (per employee per month) while increasing utilization review productivity by 15.2%. Also, the Optimal Recovery Course within the MCG Acute Viral Illness guidelines played a critical role in helping Cleveland Clinic's remote and onsite teams coordinate care for their patients and reduce the average length of hospital stay. Linda O'Donnell, Senior Director of Operations for Ambulatory and Care Management at Cleveland Clinic said, "The MCG solution has provided us with a standard that assures we are adhering to the correct guidelines. At a time where we are all working from home, it is important to know that our entire team is using electronic documentation tools in a standardized process. This helps to support compliance and adherence to our regulatory requirements."
CDPHP, a physician-founded, community-based health plan serving nearly 400,000 members in New York state, responded to the pandemic by developing an extensive outreach program to support its most vulnerable members. CDPHP served as a bridge between hospitals and patients, helping patients, doctors, and loved ones stay connected and informed during the lockdown. These efforts involved a unique software customization of MCG Cite CareWebQI to build real-time reporting of COVID-19 diagnoses which allowed CDPHP to perform fast, proactive outreach to affected members and their families. These reports also gave CDPHP physicians and leaders insight into time-critical resource allocation and allowed the organization to adapt to rapidly shifting priorities. As a result, the CDPHP program was able to waive cost-sharing for COVID-19 testing, implement parity payment for telehealth, contact over 10,000 at-risk individuals, and provide online educational services to help maintain the health and wellness of its members.
Of the winning organizations, MCG President and CEO, Jon Shreve, said, "Even in a year as difficult as 2020, it is inspiring to see healthcare leaders overcome unparalleled challenges with passion and ingenuity to achieve what's best for the patient."
The 2020 Richard L. Doyle Award will be presented to each recipient organization at MCG's annual Client Forum in San Antonio, Texas (October 4-6, 2021). You can learn more about the award and past winners at https://www.mcg.com/doyle-award/.
###
About MCG Health
MCG, part of the Hearst Health network, is an industry leader in evidence-based, clinical decision support and healthcare technology. MCG's transparent and unbiased assessment of the latest scientific research and scholarly articles, along with robust data analytics, helps payers, providers, and government agencies feel confident in their healthcare decisions. For more information visit http://www.mcg.com or follow our Twitter handle at @MCG_Health.
About Hearst Health
The mission of Hearst Health is to help guide the most important care moments by delivering vital information into the hands of everyone who touches a person's health journey. Each year in the U.S., care guidance from Hearst Health reaches 85 percent of discharged patients, 205 million insured individuals, 103 million home health visits and 3.2 billion dispensed prescriptions. The Hearst Health network includes FDB (First Databank), Zynx Health, MCG, Homecare Homebase and MHK (formerly MedHOK). Hearst also holds a minority interest in the precision medicine and oncology analytics company M2Gen. Follow Hearst Health on Twitter @HearstHealth and LinkedIn @Hearst-Health.