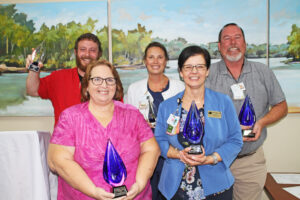 (Springfield, GA) August 8, 2019—Effingham Health System honored three special employees with the C. Edward Helmey Humanitarian Award, one of the highest honors bestowed by the healthcare system. The award has been presented annually to one exceptional employee, since 1994. Presenting the awards were Fran Baker-Witt, CEO, and Victoria Little, Chief of Support Services. Joining them to honor the recipients were EHS Board Members, Ann Yarborough (Chairman), LaMeisha Hunter Kelly (Secretary), Hoyt "Mose" Mock, and DeBorah Lanier Scott.
Keeping with that tradition and covering the past few years, Katheyrn Appleton, Director of Transitional Care (employed 6.5 years) received the award for 2017. Richard "Richie" Burns, Maintenance Supervisor (7.5 years) received the 2018 Award. And Darlene Mock, Payroll Based Journaling Coordinator (19 years) was honored as the 2019 Recipient. All three recipients were surprised by the appearance of their families at the standing room only event.
Each of these special people have been chosen by their peers as an Effingham Health System employee that has gone to extraordinary lengths to assure excellence in patient care. Mr. Helmey, whom the reward in named after, is one of the first members of the Effingham Health System Board of Trustees. Mr. Helmey, who passed away in 2007 at the age of 85, was represented at the ceremony by family members, including Irene Jones, George Helmey, and Edward "Eddie" Helmey.
Also recognized in the ceremony were 2019 Helmey Award Finalists Maggy Palmer, Clinical Practice Coordinator (employed 6 years), and James "Patrick" South, Emergency Room Technician (3.5 years).
Ms. Little said during the event that Mr. Helmey was a visionary for healthcare in Effingham county. He realized that work here in the hospital is similar to hard work in farm life; with focus on nurturing and growing. She explained the connection to the award, sharing that "Ed was a listener with integrity, well respected, dedicated to improving healthcare in our county, and a humanitarian. Doing for other people—always."