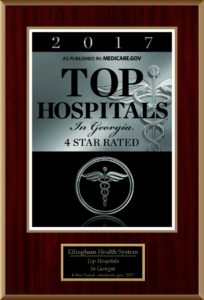 (Springfield, Georgia) February 26, 2018— For Effingham Health System (EHS), a community hospitalfocused on transformation, Medicare.gov's Hospital Compare rating of four-stars, is recognition that the hospital's quality of care is the best in the area. EHS is the only hospital in the Greater Savannah area—Chatham, Effingham, Bryan, and Bulloch counties—to be named a Top Hospital in the State of Georgia by the Centers for Medicare and Medicaid Services (CMS), the government agencies that make it possible for millions of people to receive healthcare.
"Our vision is to achieve customer and industry recognition while providing the highest potential health outcomes for the patients we serve," explains Fran Baker-Witt, CEO. "To achieve that we focus on initiating evidence-based, best practices for patient care."
Announcement of the recognition was made by Effingham County Commission, Chairman, Wesley Corbitt. "Because this healthcare system plays such a vital role in our community I am honored to make this announcement today," shares Corbitt. "This is the highest level of recognition this hospital system has ever received. It is recognition that this healthcare system is truly becoming a leader in healthcare for this region."
Chairman Corbitt continues to describe the non-profit, public healthcare system as a solid institution and economic engine that employs over 400 local people.
Helping Corbitt unveil the plaque was Patricia Ann Yarbrough, Chairman of the board of directors for Effingham Health System. "To be named a 2017 Top Hospital in the state of Georgia, validates the quality of care Effingham Health is providing for the people of Effingham County and the surrounding area," Chairwoman Yarbrough explains. "The entire team at Effingham Health System has worked hard to earn this recognition. Thank you to our employees, and our leadership team."
Yarbrough attributes this rating to EHS leadership's focus on elevating the patient experience and improving patient outcomes. At the same time, they are listening to the needs of the community and expanding the scope of services offered through Effingham Health System.
Hospital Compare is an online service (medicare.gov/hospitalcompare) that assists patients in making decisions about where they can get health care. It also encourages hospitals to improve the quality of care they provide.
"This is great news," exclaims Mrs. Baker-Witt. "Not just for our hospital staff, but for our patients! It is acknowledgment that we are providing the best possible care—close to home."
While she is proud that EHS is the one hospital in the Greater Savannah area to receive 4-star recognition, Mrs. Baker-Witt goes on to explain that direct comparison with other hospitals is difficult, since hospitals vary in size and types of service. Most important she says, is that this reward is a reflection of the level of care that patients receive here—at Effingham Health System.
With this four-star rating, Medicare recognizes that EHS patients receive the best possible care—for the services provided—of any medical facility in this region.
Baker-Witt enthusiastically acknowledges the role of her leadership team and all EHS employees in achieving this level of recognition, "As part of our transformational journey, our commitment as a team is to "Be the change. Lead the change. See the change. This 4-Star rating is the outcome of our commitment to you—the community—to provide a patient experience that exceeds your expectations."
She says she realizes that true transformation happens over time and EHS will continue to make changes within their system and add services based on the needs of patients.
The CMS rating is based on multiple measurements for patient safety, clinical care, communication, patient engagement, and fiscal efficiencies. Insight on the patient experience is gathered through extensive patient surveys.
CMS publishes ratings for over 4,000 Medicare-certified hospitals across the country. CMS Hospital Compare updates its ratings every six months. The next update will be in June of 2018.
As Baker-Witt points out, in all of this, the real winners are the people of Effingham County and the surrounding area, who rely on EHS for quality care and the best possible healthcare outcomes.