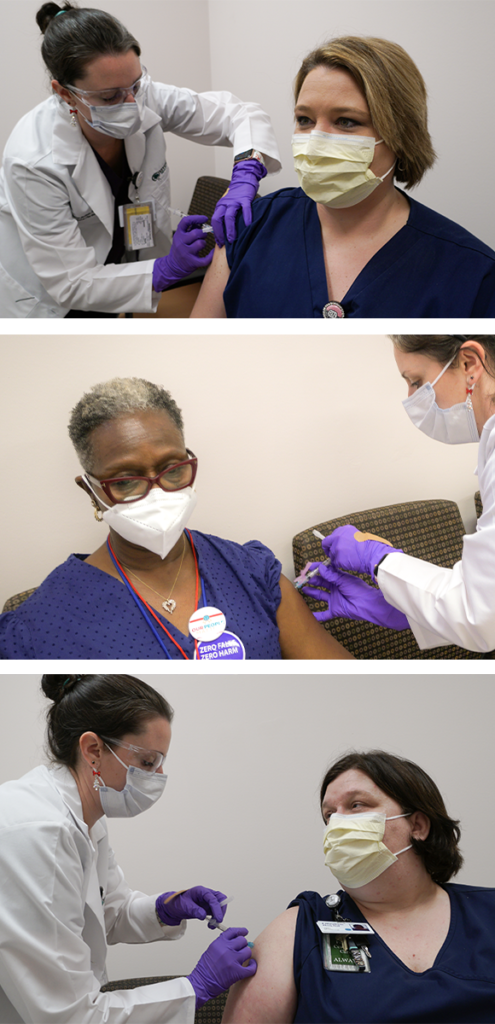 Effingham Health System has been fortunate to receive early doses of the COVID-19 vaccine. Dr. Fran Witt, the CEO, shared the enthusiasm of her staff: "This vaccine is a major, proactive step that offers us hope in fighting this virus. We are excited to begin phase one of our COVID-19 vaccination program with our front-line healthcare workers. Keeping them safe so they can be there to care for members of our community during this pandemic. Our rollout of the vaccine will follow strict CDC and Department of Public Health (DPH) guidelines for distribution."
Per priorities established by CDC and DPH, the first doses will be given to healthcare workers, county EMS providers, and long-term care residents in our Care Center.
Follow Effingham Health on Facebook or visit EffinghamHealth.com/coronavirus for updates on the rollout of vaccines for our community.
The Chief Nursing Officer for EHS urges people to research the science behind making these vaccines. She hopes everyone will make an informed choice when the vaccine becomes available to them. "This could be the turning point in fighting this pandemic." (https://www.cdc.gov/coronavirus/2019-ncov/vaccines/safety.html)
We spoke to several of the first front-line healthcare workers to receive the vaccine and asked them how they feel about receiving it. 
Amy Watson, BSN RN, Emergency Department Director: "I am proud to be one of the first recipients of the COVID vaccine. I trust that it is safe, and I hope that by seeing this, more people will be motivated to get the vaccination. I believe that this is a great first step for providing protection in our community."
Jennifer Floyd, RN, Director of Nursing, Medical-Surgical Department: "There has been so much controversy in regards to the new vaccine. Everyone has the right to choose whether to receive the vaccine or not. Personally, I am grateful and thankful for the opportunity to receive this vaccination. This pandemic has been stressful on everyone in the community; it's adjusting to a whole new way of life. I feel that having the chance to vaccinate gives a glimpse of hope. We are all in this together, and we will get through it together. That's what family does! Thank you to Effingham Health System for offering the vaccine to us and protecting us."
Photo Descriptions:
Bertha Scott, LPN in EHS Care and Rehabilitation Center: 
Amy Watson, BSN RN, Emergency Department Director
Jennifer Floyd, RN, Director of Nursing, Medical-Surgical Department
*All vaccines in these photos are being administered by Kameron Huffman, Director of Pharmacy