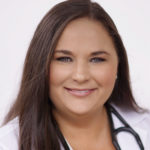 (Springfield, Georgia) August 15, 2017—Effingham Health System is putting major emphasis on transforming healthcare for children in our community. As part of that commitment, Dr. Bailey Alford, is joining Effingham Health System as a full time pediatric physician. This is a "coming home" for Dr. Alford, who grew up in Guyton.
"Dr. Bailey," as her patients call her, will join the Effingham Family Medicine team, providing care for local children through the Guyton and Springfield locations. She is the first pediatrician to be part of Effingham Health System.
"Bringing a pediatrician on staff is a major step in our strategic plan to deliver healthcare programs that align with our vision," explains Fran Baker-Witt, CEO for Effingham Health System. "Families that choose to live in the Effingham area deserve to have exceptionally trained, convenient, medical care for their children."
According to Mrs. Baker-Witt, signing Dr. Alford is a pivotal point for the organization, demonstrating Effingham Health System's long term commitment to understand and meet specific needs of the community in terms of healthcare providers.
Dr. Bailey Alford, M.D., completed a three-year Pediatric Residency with Memorial University Medical Center in Savannah.  Prior to that she received her Doctorate of Medicine from Mercer University School of Medicine. She also holds a B.S. in Biochemistry and Molecular Biology, with a Chemistry minor, from Mercer University, where she graduated Magna Cum Laude with University Honors.
Dr. Alford has worked with community programs, including Parent University and Early Learning College in Savannah, where she served as an instructor.
"I grew up in Effingham." says Dr. Alford. "The opportunity to work with Effingham Health System to provide medical care for the next generation of children in my own home town is as good as it gets!"
Another major child-focused initiative was announced a few weeks ago. Effingham Health System is partnering with Effingham County Board of Education for a telemedicine pilot program—Effingham Health TELEMED—which will be launched in Guyton Elementary and Springfield Elementary this fall.