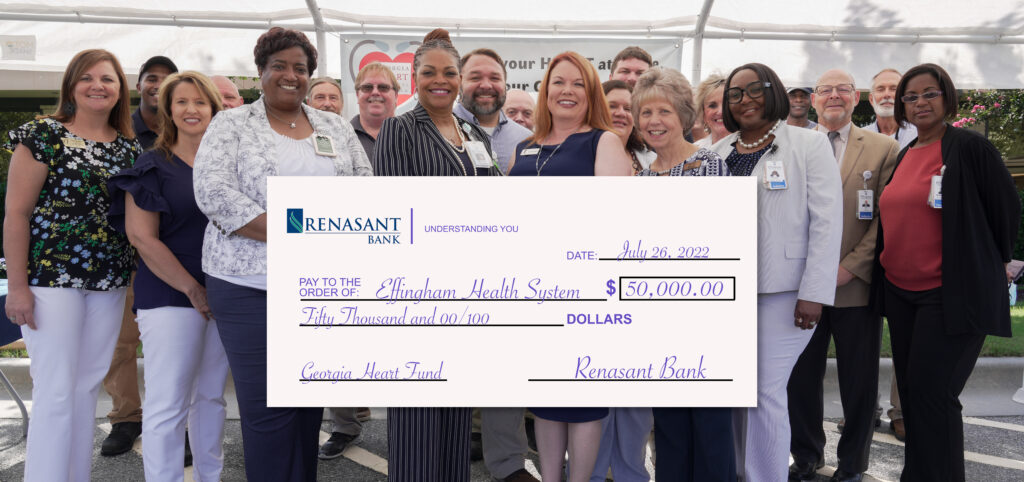 (Springfield, Georgia) July 26, 2022— Renasant Bank is making a major donation to Effingham Health System (EHS) through Georgia HEART and the Georgia Rural Hospital Income Tax Credit 2022 Incentive for the second consecutive year. Mia Thompson, Market President and AVP for Renasant Bank in Rincon, recently presented a check for $50,000 to the EHS leadership team.
"This donation from Renasant Bank brings to $100,000 the total amount they have donated in the past two years," shares Dr. Fran Witt, President and CEO of Effingham Health System. "Renasant Bank's continuous generosity, through donations to the Georgia HEART program, adds to significant investment in the health of this community."
Ms. Thompson, who originated the request for Renasant Bank's participation in the entire State of Georgia, says that this year the Bank will donate a total of $250,000 to five rural hospitals throughout the state of Georgia. She says, "While Renasant Bank is a large financial institution, it is important for us to behave like a community bank. This contribution is a great example of how we can do that."
Georgia HEART administers Georgia's Rural Hospital Income Tax Credit, which encourages individuals and businesses to support rural hospitals like EHS through a 100% State Income Tax Deduction. Some corporations and pass-through entities may qualify for an additional federal income tax deduction.
Funds from this program go to support important facility and equipment improvements. For example, in 2021, Georgia HEART donations helped upgrade Effingham Health System's air handling system—creating a safer, more comfortable environment for patients, visitors, and staff.
For more information about the Georgia Rural Hospital Tax Incentive and how you can participate, contact LaMeisha Hunter Kelly, Executive Champion for Effingham Health System's Georgia HEART program, at 912-754-6451.