---
Click here for 8 things to know and answers to frequently asked questions.
---
VACCINE APPOINTMENTS PUT ON HOLD
UPDATED 02/10/21:  Because we are still waiting on expected allotments of COVID-19 vaccines, Effingham Health System continues to temporarily pause all appointments for the first vaccine shot. 
IMPORTANT: Those people who have already received their first vaccine, will receive their second vaccine shot on time.

Please keep your scheduled appointment. 
If we need to reschedule your first vaccine appointment, our pharmacy will give you a phone call as soon as we receive another allotment of the vaccine. 
If you are already on our waitlist, we will resume setting appointments as soon as we receive our next allotment of vaccines.
People in Phase 1A+ may continue to call 912-754- 0283 to be added to our waitlist.
Because vaccines are allocated by state, we will only be vaccinating Georgia residents or those who work at Effingham Health System, per DPH guidelines. Please bring your ID to confirm your home address.
Please check for Vaccine Appointment Updates on our website, EffinghamHealth.org/coronavirus, or follow our Facebook page @EffinghamHealth.  
The State of Georgia is currently working on getting more vaccines. We are ready to proceed with vaccinations immediately once we receive new allotments.  
---
VACCINES OPEN TO PHASE 1A+
UPDATED 01/13/21:  We have begun vaccinating the 1A+ Group, which includes persons 65+ and their caregivers. There is no cost to receive the vaccine. Check out the three options we offer for scheduling your vaccine.
---
EHS OPTIONS FOR COVID-19 VACCINATIONS
EFFINGHAM HOSPITAL RETAIL PHARMACY: Call 912-754-0283 (Mon-Fri 10 am – 6 pm, and Sat-Sun 10 am — 4 pm) to schedule an appointment. We are in the process of calling those already on our waiting list to schedule their appointments.
VACCINE CLINICS: Beginning January 25, 2021, we will also hold larger-scale vaccine clinics (by appointment only). Call our Retail Pharmacy at 912-754-0283 (Mon-Fri 10 am – 6 pm, and Sat-Sun 10 am — 4 pm) to schedule an appointment. Location is our medical office building located on the Effingham Hospital campus. Clinic dates/times:
Monday, Wednesday, and Friday Clinics: from 3 pm-7 pm
Two Saturdays a month: 10 am-4 pm
EFFINGHAM FAMILY MEDICINE: will also begin vaccinating patients who meet the 1A+ criteria on January 18, 2021. Please call your provider's office to schedule an appointment with them.
---
PHASE 1A+ INCLUDES:
Anyone ages 65+ and their caregivers
All First Responders
Health care workers or volunteers in health care and residents of long-term care or assisted living facilities can still be vaccinated. This includes hospitals, outpatient physicians' practices or clinics, pharmacies, EMS, public health, and home health care.
Effingham Health System is excited to partner with the Department of Public Health to administer COVID-19 vaccines. We will move to Phase 1B when advised by DPH. This group is expected to include essential workers and those adults with high-risk medical conditions.
---
DPH COASTAL HEALTH DISTRICT IS ALSO ADMINISTERING THE VACCINE IN EFFINGHAM
Click here for more information on where and how DPH is distributing vaccines in our area.
---
FOR THOSE WHO HAVE APPOINTMENTS WITH THE RETAIL PHARMACY
Vaccines will be administered in the hospital's Retail Pharmacy, located in the Hospital Atrium.
Enter the hospital through the Main/ER entrance.
All vaccine recipients will be screened and must wear a mask in the hospital.
Please check back regularly for updated information regarding the roll-out through Effingham Health System. This information is subject to change based upon vaccine availability and updates from DPH. We thank you for your patience and look forward to vaccinating you as soon as possible per the guidelines established by Public Health.
For easy access to updates on the COVID-19 Vaccination roll-out, please like and follow our Effingham Health System Facebook Page. 
---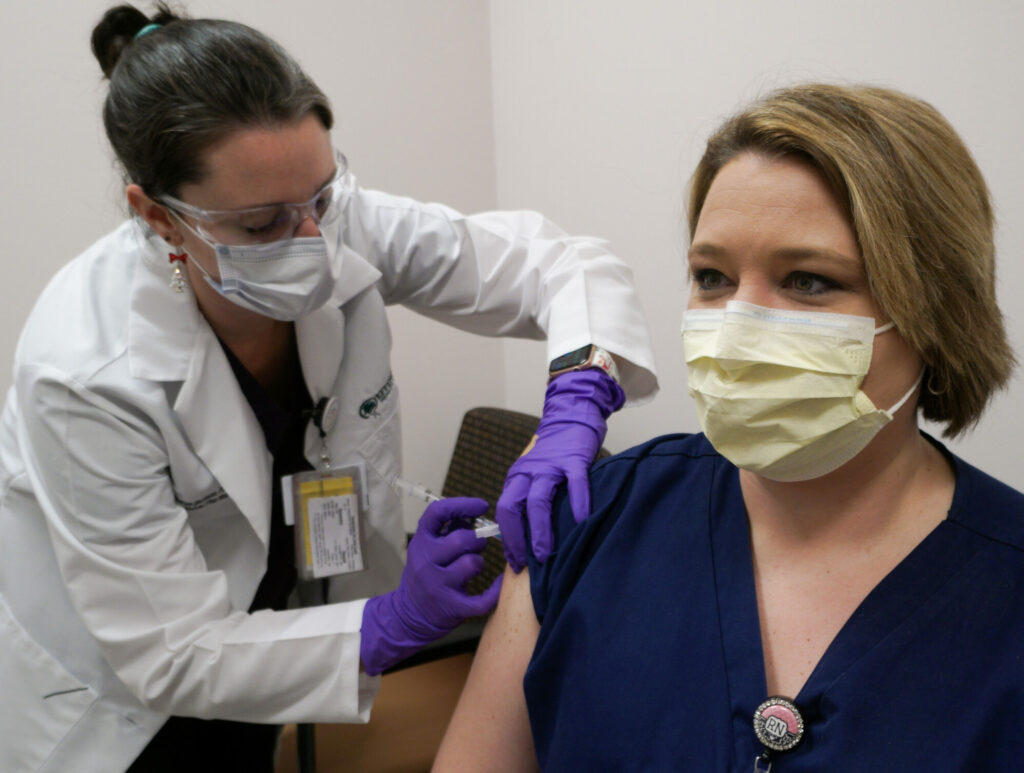 Effingham Health System Receives First COVID-19 Vaccines
AHA, AMA, and ANA Urge Healthcare Professionals to Take COVID-19 Vaccine
---
Phase 1A Expanded to include persons 65+ and first responders: The first COVID-19 vaccines have been approved by the FDA and are being rolled out in our area. EHS is partnering with DPH to distribute the vaccine. For more information visit https://covid19.gachd.org/vaccine/  
Updated Graph of New Cases in Coastal Health District and in Effingham County: https://covid19.gachd.org/daily-average-of-new-cases/
In accordance with CDC COVID-19 guidelines, everyone entering an Effingham Health System facility will be required to wear a face mask. We encourage you to bring your own face mask. If you don't have one, a face mask will be provided.
---
"Even as our businesses and schools reopen across the state, our healthcare team will stay vigilant in responding to the COVID-19 threat." 
— Dr. Fran Witt, CEO, Effingham Health System
---
Coronavirus Prevention at Effingham Health System
In response to the National Emergency, we are instituting Coronavirus Prevention and Awareness Measures. We are assuming a robust, aggressive, proactive position to promote a healthy community. 
Please read these guidelines to help us keep you, your family, your friends—and our community healthcare workers—healthy throughout the coronavirus threat. Given not everyone infected by COVID-19 exhibits symptoms, our policies are designed to minimize traffic and reduce risk of infection for all our patients and residents. In response to a frequently asked question, we are using a top-of-the-line disinfectant within our facilities, along with best practices to maintain a healthy hospital environment.
---
Patient Screenings in Effect Until Further Notice:
All patients entering Effingham Hospital will be screened and have their temperature checked, prior to entering the building and will be asked to wear a mask inside the hospital.
Please Note: To maintain a safe environment for all our patients, non-emergency ER patients presenting with CDC COVID-19 symptoms may be asked to wait in their car until an appropriate exam room is available. 
---
Visitation Restrictions
UPDATED EMERGENCY DEPT. VISITATION GUIDELINES
All patient's presenting to the Emergency Department will be allowed ONE dedicated visitor with the following exceptions:
Persons >18 years old suspected with COVID-19. No visitors until test results are negative. Per physician request, the patient may be allowed one dedicated visitor while tests are pending. Visitor must wear appropriate PPE.
Any patient who presents with known positive COVID-19. No visitors. Per a physician's request, the patient may have one dedicated visitor. Visitor must wear appropriate PPE.
A dedicated visitor means one person can remain throughout the patient's visit. Visitors will not be allowed to change out with other visitors. All visitors must be screened at the front entrance and will not be allowed to visit if they screen positive or have a fever. The visitor must wear a face mask at all times and remain in the patient's room.
Any deviation from these guidelines is for life-threatening, critical emergencies or for end of life and compassionate care. These deviations must be at the discretion of the provider.
NO VISITORS ARE ALLOWED INTO THE MAIN HOSPITAL OR CARE CENTER FOR ANY REASON. If you accompany a patient to the hospital, please wait for them in your car. Make sure the patient has your mobile number, if available, so they can reach you if needed.
There are a few exceptions to our No Visitation Policy in the case of minors, patients that lack the capacity to communicate, or for patients in compassionate care. Please see Screeners at the hospital entrance for help with this, or speak to your patient's nurse via telephone prior to arriving.
Limited Entrances to Hospital
Rehabilitative Services Entrance: Open Mon-Fri, 6:00 am-5:00 pm only.
Emergency Room Entrance: Open 24/7
Cancer Care Center: Open to Cancer Care Center Patients ONLY
---
Your Role in Staying Safe
The good habits we have learned, like careful hand-washing, cloth face covers, and social distancing, will continue to be important. Learn more about what you can do to protect yourself and your family, and stop the spread of COVID-19. Click here to visit the CDC website for more information.

---
Morrison's Café Closed Temporarily
Morrison's Café remains temporarily closed to the public to minimize traffic and exposure. Our date of reopening is to be determined. Thank you for your understanding!